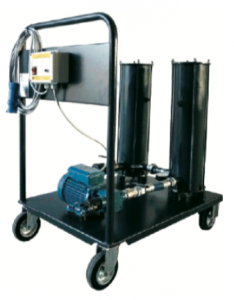 Purifies in a short time the lubricant oils.
Extracts the impurities from the lubricants.
Extends the lubricant life.
The ECODE IF serie was born to satisfy the demands of extraction of the impurities from all kinds of lubricants oil. The extraction takes place through the lubricant fluxing by two filters with different filtering degree. The equipment also provides to use only a filter through the application of by-pass system. The filtering degree of the two filters can be sorted by customers.
Advantages
Better performance of the lubricant.
Less disposal costs.
Ideal for hydraulic control units and hydraulic cicruits.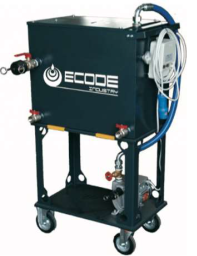 Purifies in a short time polluted slurries of the tool machine.
Extracts trapped oils, hydrocarbons and dusts.
Extends the life cooling-lubricant fluid life.
Limits the bacterical proliferation eliminating bad smells and the creation of slime molds.

The IP Serie in its two different configurations was born to satisfy the polluting substances extraction demands on hydrocarbon industrial fluids based such as slurries and casting fluids. The range also provides stainless steel models with insulation option for appications in the industrial washing baths treatment. The range provides also the customisations for resilution of different problems.
Advantages
Better performance of the lubricant.
Less disposal costs.
Bacterial charges and bed smells blasting.
Less maintenance costs.
Lower toxicity of the evaporations.
Ideal for lathes tool machines, main cooling lubricants system, boring machines, industrial washing machines.